AGF Hosted Congresswoman

DeLauro
August 1, 2019
American GreenFuels, LLC Hosts Rep. DeLauro at Its New Haven Biodiesel Production Facility
Connecticut's biodiesel workers thank Representative DeLauro for her leadership in Congress and ask about progress in extending the critical biodiesel tax credit.
NEW HAVEN,CT–Today,American GreenFuels, LLC hosted Rep. Rosa DeLauro at its New Haven biodiesel production facility. Rep. DeLauro has been a key supporter of Connecticut's biodiesel industry, leading a Dear Colleague letter to House leadership on the issue, co-sponsoring HR 2089 The Biodiesel Tax Credit Extension Act of 2019, and participating in a May press conference hosted by the National Biodiesel Board (NBB) along with a bipartisan, bicameral group of her colleagues.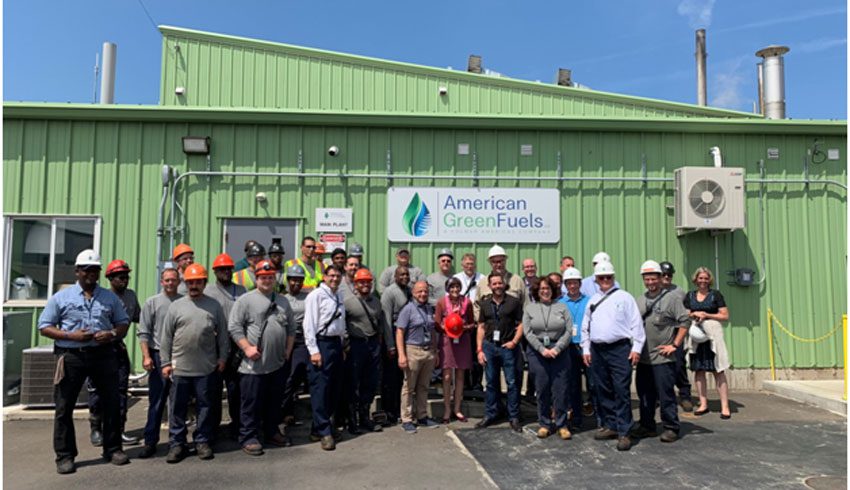 The biodiesel tax credit lapsed at the end of 2017 and is currently being considered for extension in both the House and Senate.
Raf Aviner, President of American GreenFuels said "Rep. DeLauro is working hard in Congress to support renewable fuels and the resulting green jobs right here in New Haven. She understands how important the extension of the biodiesel tax credit is to Connecticut jobs, Connecticut's air quality, and reducing Connecticut greenhouse gas emissions. We have faith she will get it done."  Aviner also noted "American GreenFuels is a true Connecticut success story, converting 40 million gallons of waste oil into biodiesel annually, but we need Congress to keep up its end of the bargain."
Kevin Luddy, Executive Vice President and CFO of American GreenFuels added "[we] have been operating at a loss for 19 months now, waiting for congressional action on extending the biodiesel tax credit. Without a prompt extension of this important investment incentive, the biodiesel industry will take a massive step backwards, resulting in a loss of jobs, production, new investment, and the environmental benefits associated with the product."
"Extending the biodiesel tax credit is critical to supporting jobs in Connecticut like those at American GreenFuels," said Congresswoman DeLauro. "That is why I fought and secured its extension in a bill the House Ways and Means Committee passed in June. Biodiesel is a renewable fuel that heats our families' home, contributes to health of our communities, and reduces emissions of greenhouse gases by half compared to petroleum diesel. I will continue to work to ensure the biodiesel tax credit comes to a full House vote soon, and then to the U.S. Senate and White House."
David Astrauckas, a Biofuels Business Manager for Kolmar Americas, described the environmental benefits of American GreenFuels noting "each gallon of American GreenFuels produced biodiesel represents a reduction of up to 93% in greenhouse gas emissions as compared to traditional diesel, along with reductions in particulate emissions that adversely affect air quality."
A wholly owned subsidiary of Kolmar Americas, Inc., American GreenFuels is the largest biodiesel production plant in New England and along the Eastern Seaboard. Since Kolmar Americas' acquisition of American GreenFuels in 2015, Kolmar has spent many millions of dollars on upgrades and increases in production capacity at the plant. These advancements have resulted in a four-fold increase in production capacity and more than doubling of employment – resulting in a current annual capacity of 40 million gallons, made by more than 50 dedicated employees, many of whom are veterans.