The American GreenFuels biodiesel plant is the largest biodiesel production plant in New England, and is steadily increasing production, as it has in each of the last four years.
American GreenFuels is located at the Port of New Haven, in New Haven, Connecticut.
The plant is integrated into the New Haven Terminal.
American GreenFuels can receive feedstock and ship out finished biodiesel by truck, rail, and ocean barge or vessel.
The plant was constructed in 2012 and has undergone significant capacity expansions since becoming operational in 2013.
American GreenFuels' latest expansion program will double the plant's capacity – to more than 40 million gallons of product per year.
BQ- 9000®
American GreenFuels is proud to have earned the BQ-9000® Producer certification from the National Biodiesel Accreditation Commission.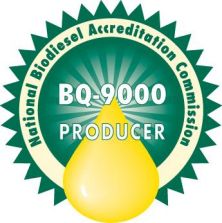 This accreditation ensures our facility has effective systems in place for monitoring the quality of our biodiesel, including:
Sampling
Testing
Storage
Retain Samples
Shipping